Welcome to
NIBIRU BENGALS
( I am frequently asked where the name Nibiru comes from, so I wanted to give a little background.
"Nibiru" is the Sumerian land of the ancient gods and goddess, it is considered the twelfth planet. Nibiru is also
called "Planet of the crossing")
a
TICA Outstanding Cattery
(This page is best viewed at 1024x768)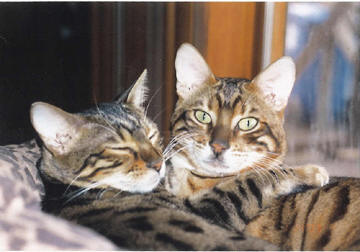 We are a small in home "underfoot" cattery located on 80 acres in York County, Pa.
We are striving for the perfect Bengals by breeding for sweet temperament
and exotic looks. Our cats have very nice spotted bellies, pelted
coats and are full of glitter. We also are working for "wild" looking
heads with large nocturnal eyes, strong muzzles and small rounded ears. Our kittens
are raised with our young children and several large dogs to help us with obtaining family
oriented pets. Please take a look around and feel free to contact us
at 717-817- 0793 or dragonbonemastiffs@hughes.net.


We are members of the following Organizations: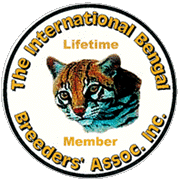 We accept credit card and electronic payments through

If you do not get a response to your e-mail within 48 hours PLEASE resend.
THANK YOU, Jackie
Phone 717-817-0793
or
Please e-mail us with any problems on this website.
Website updated on
05/25/2008
You are visitor number
Copyrighted 2000.
S=